Saber White
WHITEN / RECOVER / BOOST
Introducing the new Saber White & Saber Boost
Introducing
The New Saber White Range
Saber White is a game changing professional whitening system. The Whiten & Recover package provides excellent, reliable results at home while also promoting post-whitening remineralisation of patient's teeth. 
The corresponding Boost package works either as a standalone or complementary light-enhanced treatment for fast whitening on the go and a quick confidence boost when it's needed most. 
While over-the-counter products may remove surface stains, there is no substitute for professional diagnosis and treatment by your dentist. Our pro-grade 16% CP and 6% HP gels have been incredibly popular among dentists and patients. 
Our new recovery tablets promote oral health as well as aesthetics. After each whitening session patients will chew a tablet, releasing a fluoride and hydroxyapatite foam to refresh the mouth and gently rinse away residual gel.
For whitening at home, you can't beat the custom tray-delivered 16% CP Saber White package. The consistent whitening effect leaves patients in control of how white they want to go and comes with recovery tablets for even those with the most sensitive teeth. The fluoride releasing tablets are designed to leave the patient's teeth not just white, but healthy too! 
If a patient is in need of quick results when out and about or wants to get a head start on their whitening while waiting for their custom trays to be made, Saber Boost is the product for them. The 6% HP gel and activator light provides targeted whitening directly to the smile zone in 10 minute bursts for a confidence boost when it's needed most. 
*Saber White products can only be purchased by GDC registered professionals. If you are a consumer and would like whitening treatment, please speak with your dentist and ask for Saber White.
Why UK Dentists Trust Saber White
Trusted by Dentists
Since launching in 2011 we've supplied thousands of whitening packages to dentists resulting in beautiful white smiles for their patients.
Pro Formula
Our pro-grade whitening gel is exclusively available through dentists with options including 16% CP or 6% HP depending on the patient's needs.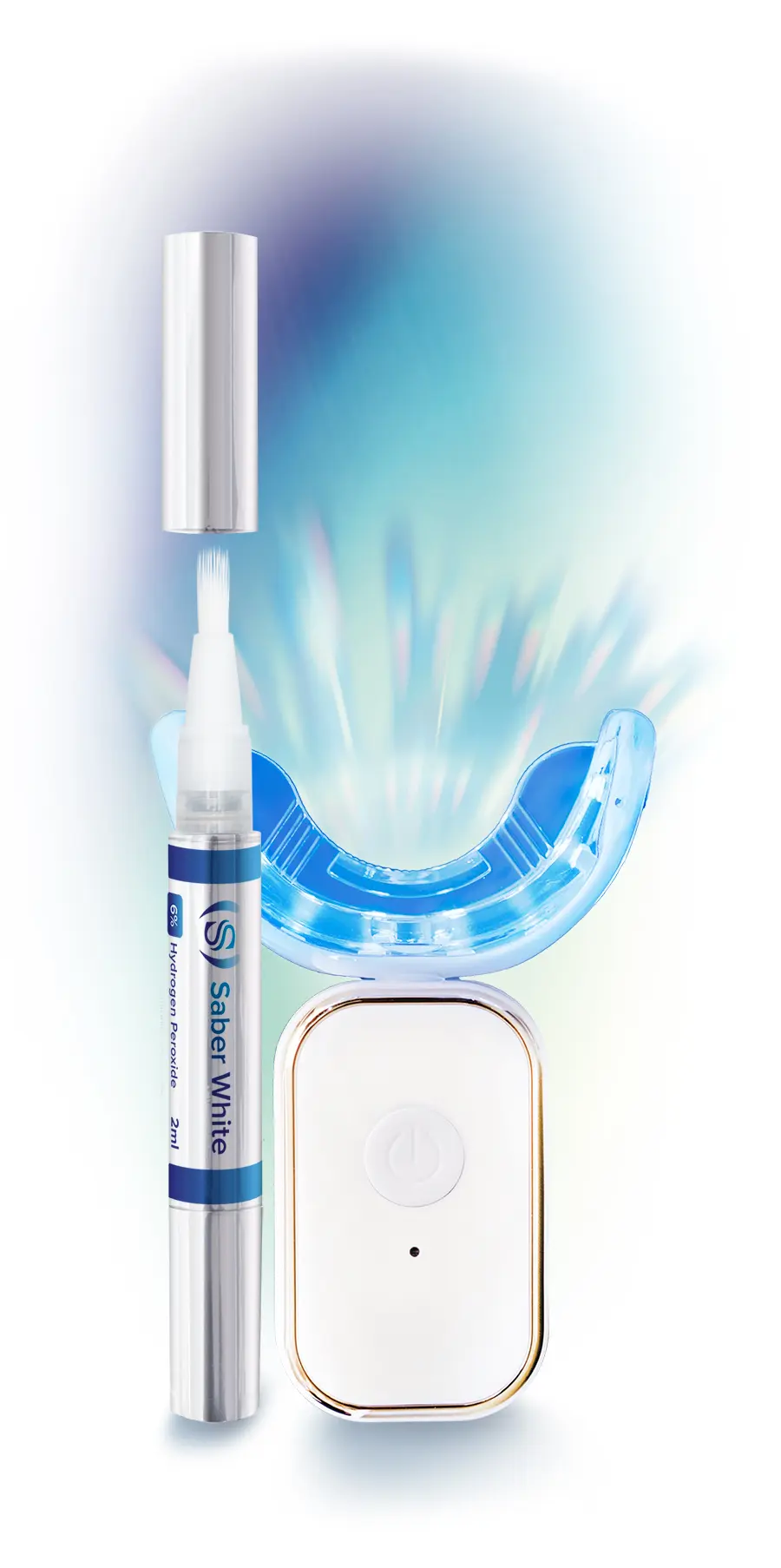 Reduced Sensitivity
Saber White now comes with post-whitening recovery tablets. Each tablet releases a minty fresh fluoride and hydroxyapatite foam rinse for reduced sensitivity and healthy teeth.
Bright White Results
Eliminate common dental stains caused by food & drink, nicotine or ageing. The patient is in control throughout and can choose how white they want to go.
Superior Whitening Boosted
The new Saber Boost gives extra sparkle to teeth in 10-minute bursts. A perfect add on to regular whitening or a last-minute enhancement when needed most.
"I was hating my photos and not wanting to smile, but 2 weeks into whitening I can already see a difference. A friend recommended this and she is a few weeks ahead of me with fantastic results. Very easy to use."

"After only one syringe down I'm already seeing results. I can't wait to finish the course and see how white my teeth get. I'm already wearing them overnight due to little to no sensitivity. Love it!"

"I have done the whitening process every night and my teeth are a lot whiter. So it really works. Not too much problem with sensitivity. Just make sure to swill your mouth with tepid water and not cold, then you don't feel any sensitivity!"
